Visual Evoked Potentials (VEP)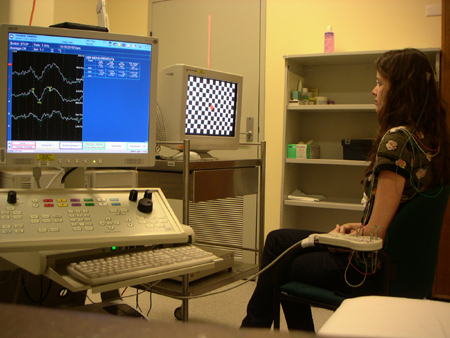 What is Visual Evoked Potential(VEP) ?
A visual evoked potential is an evoked potential caused by a visual stimulus, such as an alternating checkerboard pattern on a computer screen. Responses are recorded from electrodes that are placed on the back of your head.
A doctor may recommend that you go for a VEP test when you are experiencing changes in your vision that can be due to problems along the optic nerve pathway. Some of these symptoms may include:
Loss of vision (this can be painful or non-painful)
Blurred vision
Flashing lights
Alterations in colour vision
What is clinical usefulness of the VEP ?
Although the VEP is very useful for detecting an anterior visual conduction disturbance, it is not specific with regard to etiology. A tumor compressing the optic nerve, an ischemic disturbance, or a demyelinating disease may cause delay in the P100; only additional clinical history and, often, MRI are needed to uncover the etiology.